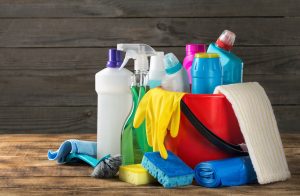 Common products found in most household bathrooms may be acid or alkaline. In addition, many contain bleaching agents. Some products contain alcohol-based products, which can discolor dyes on silk and acetate fabrics, as well as other materials.
If your pajamas, clothes, washcloths, towels, or other fabrics contact one of these products, faint staining or a water-ring may be noted. In some cases, immediate discoloration may occur.
To prevent clothing damage, always apply or use these products before dressing. If you forget, dry clean fabrics as soon as possible. Be sure to tell us where the danger is and what caused it when you drop off your clothing. Keep a list of products you use in your bathrooms that might cause damage for easy reference or to refer to when taking clothes to Flair Cleaners.
Bathroom Dangers for Clothes
ACID: Moisturizers, skin care products, hand sanitizer, hand lotion, deodorant, tanning products and sun block, callus remover, eye and nose drops, mouthwash, bubble bath, hair conditioner, fade cream, cough syrup and children's liquid medicines, joint pain cream and lotion, and perfumes
ALKALINE: Shampoo, toothpaste, soap, depilatories, disinfectants, ammonia, hair dye, drain cleaner, window cleaner, bathroom cleaners, some bubble bath and bath gel, shave cream, and some deodorants
BLEACH: Toothpaste, teeth whitening kits, acne medications, some moisturizers, hair lightening products, household cleaning and sanitizing products, mildew removers, shower spray, and scouring powder
ALCOHOL: Rubbing alcohol, perfume and cologne, body spray, facial toner and astringents
Remember, the longer the product remains in the fabric, the greater the chance that color loss— or even holes—will develop.