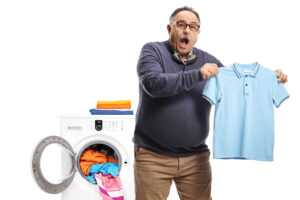 One of the most common problems with home laundry is shrinking a favorite shirt, dress, sweater, or outfit. When this happens, you might think it's time to donate it, use it as a cleaning rag, or toss it. Recently, we read a piece on unshrinking shrunken clothes and thought we'd share it. Beware that it takes time and the proper materials, and a lot of luck.
Unshrinking Shrunken Clothes
Improperly washed clothes shrink. It's a fact of life. It's always important to follow care labels. To reverse shrinkage, you must loosen the fabric and stretch out the curled-up threads.
Materials List:
A bucket
Conditioner or baby shampoo
Whisk or similar tool
Warm water
Two big towels
Books, paperweights, heavy items
Luck
Step-By-Step Instructions
Be sure your bucket is clean. It's a good idea to wash it with warm water and a disinfectant. Any dirt or oils in the bucket will transfer to your clothes.
Fill your bucket up with lukewarm water.
Add two-thirds to one cup of hair conditioner or baby shampoo.
Use a whisk to mix the conditioner into the water until it's a cloudy white.
Put the garment into the solution.
Massage and squeeze the water through the fabric.
Soak for 30 minutes.
Remove the garment. Squeeze out the water as you pull it from the bucket.
Lay the clothing out on the dry towel.
Roll the item up in the towel.
Press as much as possible to remove the excess water.
Softl stretch the fabric to mimic its original shape and size.
Lay it flat on another towel to dry.
To keep the material from re-shrinking, place books, paperweights or heavy items on the clothing.
It'll should dry less coiled or shrunken.
With a little luck you'll be able to wear your favorite garment once again.
Warning:
We do not recommend this process as it does not work on all garments, especially those that are dry clean only. And, because the process involves wringing it may leave clothing misshapen or further harm delicate garments.
The best practice is to read care labels and follow instructions carefully. Bring your dry clean-only items to Flair for proper care. And, if you don't have time to follow the care labels, our Wash & Fold service will return your clothes clean, unshrunken, and ready to wear.