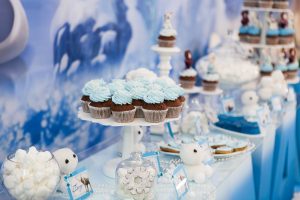 The holiday season is here! The holidays give all of us the opportunity to show our creativity with recipes, decorations, and parities. And while a fun time of year, putting on a formal party for work, an intimate family gathering, or a fun friend's party can be stressful. Whatever type of event, taking time to plan is the key to success. We asked our customers for some inside tips on party planning, whether living in an apartment or parties at home.
Apartment Holiday Parties:  
Keep friends and family engaged when throwing a party in a smaller apartment. Plan activities that keep the party going.
A holiday-themed menu is a fun way to add color and decorations without making the space feel crowded.
Decorating an apartment takes creativity – smaller pieces and lights add atmosphere without overwhelming your space. Don't forget to dress your door with a festive design. This helps people find you and provides a warm greeting.
Home Holiday Parties:
First, pick a theme. For example, create a Winter Wonderland or Holiday Lodge.
Use your space indoors and outside. Larger displays and well-placed small, lighted seasonal plants create a festive spirit.
Use your theme to decorate your rooms. Designate a room for specific activities, such as a buffet, drinks, conversation, and games.
Instead of individual beverages, offer punch where guests can serve themselves. Keep water, coffee, and tea on hand for later in the evening.
Small finger foods like mini sandwiches, small sausages, meatballs, or chips and dip are perfect for any sized crowd. On the sweet side, cookies and sweets are pure bliss.
Set your tables with holiday linens that carry out your the theme.
Before and After:
Check your linens to see if you missed any stains from last year. If so, bring the linens to Flair Cleaners for expert advice and treatment. Set stains can be hard to remove. And, if someone spills during your party, carefully dab (don't rub) the stain to remove excess moisture. Then, bring your linens to your local Flair Cleaners for care. Our specialists at Redondo Beach, Studio City, Valencia, Burbank, and Santa Monica will work with you to identify and treat the spill.
At Flair Cleaners, we are ready to meet all your holiday cleaning needs, from table linens to your "holiday best."