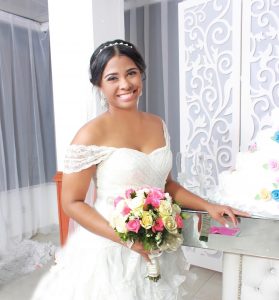 Your perfect day was accented by the perfect dress, one you want to cherish forever. Did you know, however, that preserving your wedding dress starts from the moment you leave the store? Here are some tips from well-known dress boutiques that will help you keep your precious dress intact.
Before the Wedding
Be sure to transport your gown in a car that has room for you to lay it flat, especially if the train is down.
When you get home, hang your gown as high as you can and leave it in the bag to keep it clean. Lie a clean sheet on the floor, open the bottom of the bag, and spread out the train to prevent wrinkles.
Avoid hanging your gown from a ceiling fan or light fixture to prevent accidental burns and damage.
If you are traveling with your gown, make arrangements with a reputable local cleaner to have it "touched up" before the wedding.
Complete all spray tanning at least four days before the wedding to avoid transferring color to the dress.
Have your nails polished at least one day before the wedding so the polish sets completely.
On Your Wedding Day
Apply all deodorants, body sprays, hair spray, and perfume before putting on the gown.
Complete your make-up application and let it set at least one hour before dressing.
If you spill water, softly blot and dry it with a soft, clean towel.
If you spill wine or other beverages, blot them dry with a clean cloth. Do not rub them or try to remove them yourself. Let Flair's professionals take care of any stains.
After the Wedding
Hang your wedding gown by the loops inside the gown; never by the fragile shoulder seams that can stretch or sag.
Do not store or cover the gown with plastic bags as they retain moisture and may cause mold or mildew.
Have a family member or friend bring your gown to Flair Cleaners as soon as possible for professional cleaning and preservation services.
Point any stains, tell our professionals what caused them, and what you did to treat them.
After preservation, store your gown in an area with consistent temperatures.
Avoid basements, attics, and exterior walls where the temperature and humidity will vary.
At Flair, our experienced team carefully treats stains, cleans your dress, and reattaches loose beads and embellishments. We then package your gown in an acid-free box.
From all of us at Flair Cleaners, congratulations newlyweds, enjoy your adventures together.