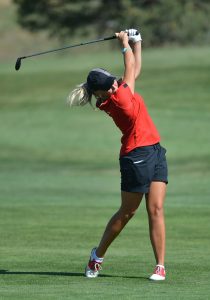 In California, we spend most of the year in the sun. Even so, summer sun and heat requires extra care, not only for your skin, but for your clothing!
We all know that the sun can give you a nice tan and even lighten your hair, but did you know that the sun can change the color of your clothes? It can turn bright colors into dingy hues, and even cause spots when it reacts with some cleaning products or stains. In fact, aside from walking the streets with a parasol, there is no perfect protection from the sun for your clothes. Shirts are most susceptible, with prime areas being the shoulder area, the back, and if you tuck your shirt in, above the waistline. Perspiration in combination with the sun will accelerate the process.
So, what is a Californian to do? The National Cleaning Institute strongly recommends prompt laundering or dry cleaning after each wearing.
Golf Shirts
The one garment that you really have to watch out for is golf shirts. Those of us who like wearing darker or brighter colored shirts during the rest of the year often opt for lighter, whiter shirts during the summertime anyway, since we all know how dark colors trap heat. But you still may be given to wearing darker colors or pastels on the golf course, if you're somebody who's inclined to enjoy a good 9 or 18 holes. These shirts are highly prone to color fading if you wear them out in the sun a lot, and when you combine sun exposure with perspiration, they can even develop an odd orange discoloration.
It's the struggle against color loss and discoloration that should lead you to a respectable dry cleaner like Flair Cleaners, even if your golf shirts are likely made out of cotton or other washable fabrics. We can't always guarantee that color loss can be avoided, but working with a professional cleaner is your best bet.