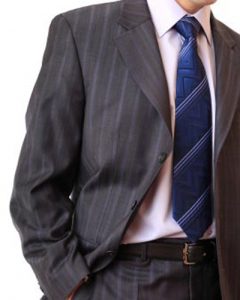 Summer is a season of long, hot days and beach weekends. It's also the season for weddings. The question most men ask is how to stay cool in the heat when dressed up for a wedding? Our fashion experts found some suits that look great, help you keep your cool, and are not too hard on the wallet.
Summer Wedding Suits
Cotton silk suits in a slim fit are lightweight enough for a summer day. But the structure of such a suit is enough that it will work for a dressier wedding.
Wool and silk-blend suits actually reflect the sun's rays. Because of this, they feel as if you are wearing a much lighter suit.
The classic houndstooth linen suit is a perfect fit for any summer wedding.
Another classic suit that is a summer staple, and perfect for summer weddings, is the seersucker suit. Just one word of caution, be sure to get a modern cut or you may look like you have just stepped off the train from the State Fair.
If you need a bit more conservative look, try a half-lined cotton navy suit. These are always in style.
If  you want a sophisticated look that stays cool, go Italian. Try a half-lined stretch cotton and cashmere downtown suit. The stretch gives added comfort for those hot, sticky days or nights.
For a less formal wedding and beach venues, stay cool with matching separates. A great alternative to the traditional suit is a modern, unstructured cotton blazer and matching chinos. Class it up with accessories and you are good to go.
And finally, for those unbearably hot days, an unlined, unstructured cotton suit is always a good choice.
No matter which suit you choose, you are sure to look your best when you bring it  to your local Flair Cleaners for the perfect fit, cleaning, and finishing. Our professionals  will make sure you will look great in the wedding photos.