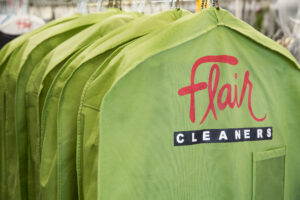 During back-to-school season you can find some great deals on the best items for storing clothing safely. Most store promote these items for college-bound students, but they are useful at home, too. Here are a few tips from our experts on storing clothing safely in off-seasons and the containers you'll want to consider.
Best Hangers
Select strong hangers that won't rust or discolor fabrics. Use wire hangers if they are covered in paper by your dry cleaner. These tips will help you know the best hangers to use for different garments, whatever seasonal clothing you're storing.
Hang structured items like jackets on shaped hangers to support the shoulders.
Hang skirts and pants by the waistbands on skirt hangers to avoid creases.
Hang silky fabrics on padded or flocked hangers to prevent them from slipping off during storage.
Hanging Storage Bags
Fabric hanging bags are a better option than plastic because air can circulate to prevent moisture build-up and damage. The Flair Better Bag is an ideal solution for storing clothes and can hold up to 20 items without wrinkling or damage. As an alternative, create your own bag by sewing the sides of a 100 percent cotton sheet and adding a zipper. Then cut a small opening for the hangers to slip through. These bags prevent dust from settling on your clothes and allows them to breathe while in storage.
Cardboard and Plastic Storage Containers
Instead of folding clothes, roll them to prevent hard creases and wrinkles from forming. Knits, especially, benefit from rolling  rather than folding.
Using the right cardboard or plastic boxes can save your wardrobe. Use acid-free cardboard boxes and containers to ensure you are storing clothing safely. The cardboard boxes you grab from the grocery or liquor store are not safe for clothing storage. These boxes are made from wood pulp that can leach acids and cause yellowing and stains on clothes. Additionally, the glue used to hold these boxes together can attract insects.
It's best to use plastic containers made of cast polypropylene, a safer material for clothing storage. Look for the #5 in the recycling triangle on the bottom of the container or the letters PP. Before adding clothes, clean the inside of the bin with a disinfectant. Line the container with a clean 100 percent cotton sheet or acid-free tissue paper to keep fragile items from touching the plastic.
Clean Clothes Before Storing
Before you store clothes for the season, carefully inspect each piece to make sure it is clean and free of stains such as grass or flower pollen. All clothing should be washed or dry cleaned before storing. There could be small stains that are not visible but can become difficult to remove after a season in storage.
Ask your Flair professional for more tips on storing clothing safely from season to season.