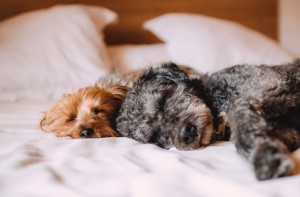 Spring and warm weather have arrived!! That means, it's time to store winter blankets and comforters. But before you store them, it is important that they are cleaned and repaired. Remember, all winter while they've been keeping you and your family warm, they've also been absorbing skin oils, pet dander and dirt you cannot see.
Most people invest in good blankets and comforters to keep their families' warm and to help make each room look just right. So, before you store them, be sure to check for any small tears, insect holes or other damage that can be repaired by Flair.  After all, you've invested a great deal of time and expense in selecting just the right bedding, so why not take the steps needed to make sure it lasts and looks beautiful for years to come. Flair Cleaners can help!
Dry cleaning is often recommended by manufacturers. Be sure to check labels, especially on woolen blankets, before you clean anything.
While laundering might clean the most visible dirt, dry cleaning provides a thorough cleaning that removes the invisible dirt deep in the fibers of the fabric, in one cleaning. This can lessen wear and tear caused by multiple launderings, and  keeps colors and patterns bright.
Dry cleaning does not shrink items. Blankets and comforters that are continuously laundered eventually begin to shrink and lose their form.  As a result, bedding no longer fits properly and you may have to replace it.
Dry cleaning makes sense. Most home laundry systems are not big enough to safely, efficiently or effectively clean comforters or blankets. At Flair we take pride in delivering quick, efficient and comprehensive service to our customers.
At Flair, our tailors can repair any tears or snags expertly so they don't turn into major problems. No one wants to wake up to feathers all over the room or snuggle with a flat, empty comforter, let alone get chilled from cold air coming through small holes in blankets.
So, when you are getting ready to store your winter comforters and blankets for the season, be sure to take them to your local Flair Cleaners for cleaning and small repairs. Oh, and please remember to point out any stains or damage so we can return your bedding to you in the best condition possible.