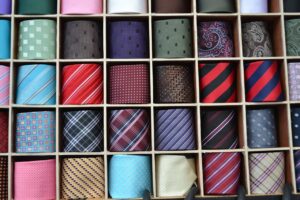 Ties can be made out of any fabric that's reasonably light. Silk, however is the most popular material simply because of its ability to "bounce" back into shape after being tied and untied repeatedly, without showing creases. If you own a silk tie – or a few – it's important to know how to care for them.
Cleaning
A silk tie should never be washed in, or exposed to, water.
Always dry clean silk ties for best results.
In an emergency, act quickly to avoid permanent damage.
Never rub grease-based stains, blot them with an absorbent cloth or paper to pull the grease out. Then, try covering the mark with fine salt allowing it to absorb the grease for a few minutes before gently brushing or pouring the salt away.
Make note of what caused the stain.
Immediately bring the silk tie to Flair or if you are out of town, and earthy-friendly dry cleaner. Let us know the cause of the stain and where it is on the tie.
General Care Tips
When removing your tie, never pull it at one end through the knot. This causes the lining and stitching to buckle. Always untie the knot as carefully as you would when putting it on.
Ties are best stored in a loose roll, created by rolling the tie around your hand starting with the narrow end. This helps avoid wrinkling.
Although most people do, it is not advised to hang ties when storing them. Gravity takes over and creases often result (particularly when ties are hung over a wardrobe tie rail – en masse).
Try to rest ties between wearings. Silk like all natural fabrics benefits from a rest.
If you still have question, ask the experts at Flair!