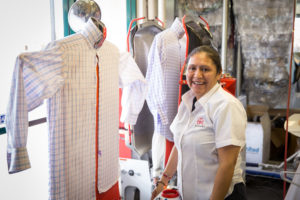 We inspect every garment and household item that comes into any Flair Cleaners store at least seven times. We spread the inspections throughout the cleaning process and cover detailing, cleaning, pressing and assembly. Every associate knows our this process and can complete an inspection at any quality check point.
Seven Steps To Quality Care
Drop-off: We inspect each item carefully and review it with our customers. We note special instructions for cleaning and enter them into the system.
Check-in: At our check-in station we conduct a detailed inspection and identify any stains missed at Drop-off. In addition, our experts look for damage, missing or cracked buttons, and other items that may be an issues that customers may need to know.
Sorting: At this station, we divide clothes into groups based on specific cleaning instructions, such as the starch or no starch, as well as by dark and light colors.
Pre-press: After cleaning, our team checks every item to ensure they meet out stringent cleaning standards. This is the fourth inspection stage in our process.
Pressing: At this station, we check every garment individually when it is pressed.
Final Inspection: Before preparing items to return to customers, our time conducts one, final inspections. For shirts, we close the third button to indicate it has passed inspection and is ready to wear.
Assembly and Delivery: Our last step is preparing each individual order in bags or boxes based on customer preference. Once assembled, we return the order to customers ready to wear.
At Flair Cleaners, quality workmanship and service are important. That's why we developed and stick to inspecting every item seven times. We know from experience that these seven steps help us help you look your best.