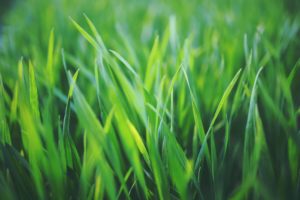 Whether you're "diving" on the soccer field, playing in the park or gardening, don't let grass stains ruin your day. Grass contains chlorophyll which is the substance that makes plants green. The green is what you see on the surface of this stain. The quicker you deal with the stain, the better chance you have of getting it out.
Removing Grass Stains From Most Clothing
There's no secret recipe for removing stubborn grass stains. It requires the right cleaning products and some elbow grease.
First, thoroughly saturate the garment with water Then, choose the cleaning agent you prefer. White vinegar, rubbing alcohol and even bleach work, however, each has its pros and cons depending on the fabric. Start with water and detergent to loosen the stain before relying on more extreme measures. Then, dab rubbing alcohol on the stain and rinse your garment with water. There are some fabrics which can be ruined by bleach, so spot test it first. Make sure that the stain has completely lifted before putting your clothing in the dryer or you risk it setting permanently.
The fabric and garment you're trying to clean will determine which type of solvent you should use. For example, denim tends to be a difficult material to treat with grass stains. Always check the care label. If your clothing is "dry clean only" bring it to your nearest Flair Cleaners as soon as possible.
Removing Grass Stains From Shoes
You will need water, a toothbrush, laundry detergent and a cleaning solution. You may also need distilled white vinegar and toothpaste.
Here's how to remove grass stains from white shoes quickly and easily.
Use a damp cloth to wet the stain and remove any dirt or debris from the shoe.
Mix one part laundry detergent to three parts water, then apply the solution to the stain.
Use a toothbrush to gently scrub the stain.
Apply a cleaning product, like Quick 'n Brite, if the stain isn't going away.
Still seeing green? Use a few drops of white distilled vinegar to remove it.
Finally, use a clean, dry cloth to remove the rest of the stain and excess moisture.
Your shoes will look like you've never stepped foot on a freshly cut lawn.