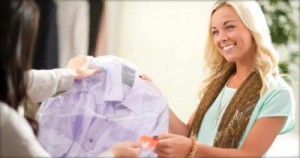 Does this sound your typical day?
You get up, grab a quick breakfast, get the rest of the household on their way and rush off to work? You work all day without a break and may even have to stay late, and then you run home for dinner and family activities. Most of us lead incredibly busy lives with little to no time for errands like dropping off or picking up dry cleaning.
Flair has the perfect solution, the Flair Office Ambassador Program. With Office Ambassador, instead of squeezing in a trip to Flair Cleaners on the way to or from work, we'll meet you at work, pick up your cleaning and laundry, and return it freshly cleaned and ready to wear.
Our automatic billing that ensures you and your co-workers won't be interrupted during your workday. You'll save time and money, and you can feel good about reducing your carbon footprint, especially as more people from your office participate.
Flair will clean the first four garments for all new Office Ambassador Program members for free, and for the first 30 days of membership, every item you have cleaned or laundered is half off.
To sign up or get more information, call Valerie, our Office Ambassador at (888) 990-5550 or send her an email at officeambassador@flaircleaners.com.