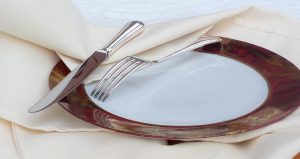 Most of the tablecloths used in our homes are made from some type of linen. This is true for vintage and newly purchased table linens.
Why Linen?
Linen is a natural fiber that comes from flax plants. It is considered one of the best quality fabric by many around the world. Unlike many fabrics, linen gets softer the more it is used and cleaned. Linen is extremely durable and can last for decades when cared for properly. Vintage linen is highly valued as its soft feel is impossible to replicate mechanically.
Linen Stain Myths
There are two common myths about how to clean stains from table linens. These myths have survived for decades. And, they cause much consternation when people take out a freshly washed and ironed tablecloth for a holiday dinner and see brownish blotches and rings.
Myth #1: "Most stains come out of linen tablecloths when they are washed at home."
Myth #2: "If the cloth looks clean, after washing, then the cloth is clean."
Here is the truth. Stains are either water-based or oil-based. Water-based stains such as coffee and red wine may come out during washing with the help of special stain removers. It's easy to see if these stains were removed. Oil-based stains can come from salad dressing, gravy or butter. These also appear to be cleaned after washing. In reality, some water-based stains and most oil-based stains cannot be completely removed by washing, even with special treatments.
Fats and oils usually remain in linen because they do not completely dissolve in water. The oils that remain are clear in color after washing. It's these invisible stains that yellow over time and ruin the appearance of a beautiful tablecloth. Worse yet, they can weaken the fabric and attract insects.
Water-based stains can react similarly if the spill contained more than one element. For example, coffee with cream or milk. This adds a protein to the stain, which requires special treatment to completely remove.
A Solution for Linens
The best treatment for oil-based stains is to have the item professionally dry cleaned. Even in the hottest water, the right treatments must be used for each type of stain. While it is tempting to disprove these myths at home, keep in mind that once a stain turns yellow it is usually permanent.
The older a tablecloth gets, the weaker the threads get. If you hope to keep an heirloom tablecloth in good shape to pass on through generations, then you should really consider dry cleaning at Flair Cleaners. We'll treat your special linens as if they were our own.
One last note, in the same way that you clean different parts of a suit together, be sure to clean napkins and tablecloths together. This ensures that even subtle changes will go unnoticed.