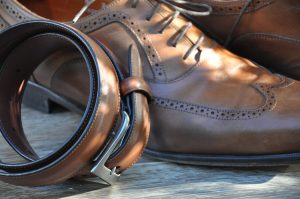 There are unlimited ways for men to accessorize.  Choosing the right pieces, though, can be intimidating. These tips are sure to make it easier.
Tie clips are designed to keep your tie in place. You can't go wrong with a few basic rules:

Do not wear a tie clip with a vest or waist coat.
Wear your clip straight across.
Wear a thick tie clip with a wide tie, and a thin one with a thin tie.
Position the tie clip halfway between your neck and belly button.

Try to match your shoe and belt color when wearing your suit.
Match the metal color of your belt buckle with your watch, tie clip and cuff links.
Cuff links can be worn anytime. Let the event you are dressing for dictate the style you wear. If your shirts don't have a place for cuff links, bring them to our tailors and we'll make the alterations.
When choosing a pocket square for your suit, pick a color that complements your tie.
There are three ways to fold a pocket square – straight, one fold and puff. The puff is the least formal and easiest to complete. Do not puff or fold your square if it has a pattern you want to share.
Investing in a leather briefcase is always a good decision. When shopping for a briefcase, look for one that locks so you can secure your valuables. Choose brown or black as these neutral colors go with everything.
Flair expert cleaners will be certain that all your accessories are kept in the best condition possible. Check with our professionals at your closest location – Redondo Beach, Valencia, Burbank, Studio City and Santa Monica for details.