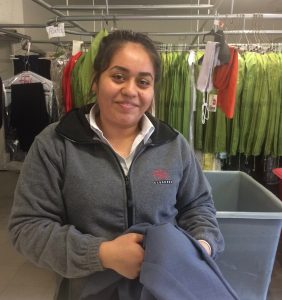 Lizbeth Gonzales (Liz) joined Flair Cleaners nine years ago. She works as a customer service representative and often is the first person you'll see in the Studio City location. As a "key" employee, she arrives early each morning to setup and open by 6:30 a.m. She always brings a welcoming attitude, "I like to think I help every customer start their day on a positive note," she says.
Even before the first customer arrives, Liz is hard at work. She ensures the computers are up and running properly and checks the registers. She also cleans and organizes the front counter and marks orders for easy pick-up. Finally, she puts out fresh coffee and treats.
While some customers arrive early, most come in beginning around 7:00 a.m. and by 8:00 a.m., it starts to get busy.  She explains that each garment is tagged with an order number and entered into the computer system with detailed descriptions including what type of garment, the color and material used. Customer preferences, if not already in the system, are entered and double checked. Then the garments are sorted into the proper bins and cleaned.
Liz Loves Her Customers
Liz enjoys her work at the counter and believes that her customers are part of the Flair family. She has known many almost their whole lives! "Sometimes I meet people who are dating, then they come in with their wedding gowns and the next thing you know, they are bringing in their babies," she says. Several times Liz has had the privilege to know as many as three generations of the same family, all of whom are Flair Cleaners customers.
One of her favorite stories is about a customer who brought in a vintage wedding dress. The dress had been worn twice before by members of her family and had been cleaned and preserved by Flair Cleaners. After cleaning it for the new bride to wear, Flair preserved it again for the next generation.
Every so often Liz will find some unusual items that customers leave in pockets, like a turkey baster and a meat thermometer. Once she found a significant amount of cash, which the manager secured and returned to a grateful customer. Another time a very expensive bracelet had been left in a pocket. It was also safely returned.
Liz appreciates the loyalty of Flair's customers. She says, "We get to know whose clothing it is when they come in all the time."  And, that is saying a lot considering that Liz works with up to 200 customers on a busy day .
Liz on Cleaning Challenges
Some of the stains Liz sees most include:
Red wine
Ink Pens
Oil
Dirt – especially on pants and slacks hems
Her advice to customers is, "Don't try to treat these at home. Often the home remedy only makes the stain worse, or even permanent."
Some of the hardest items to clean, she says, are beaded skirts and chenille blankets with tassels and string fringe. Beaded skirts have to be carefully examined all around to make sure there are no lose beads before cleaning. The fringe on the blankets can get tangled in the cleaning process, and as a result has to be untangled meticulously by hand.
Liz started her career working at Flair Cleaners Studio City and she loves it, saying, "We are friends outside of work. We do things together. We are like a family."
This couldn't be more accurate in describing all of our Flair Cleaners locations, Redondo Beach, Valencia, Burbank, Santa Monica and of course, Studio City.
The next time you come in, be sure to say hello to Liz!