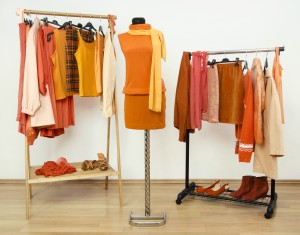 Autumn is officially here, and while the temperatures tell us otherwise, it's time for your Fall Clothing Check-up. So, make an appointment with your closet to transition your light spring/summer wardrobe to your warmer autumn/winter wear. Even if you are just switching out colors from bright greens, pinks, and yellows to burnt oranges, golden yellows, and wintry greens, now is the time!
While we all love to shop, before you splurge and buy a whole new wardrobe,  do a complete and honest inventory of what you own. As you do, put each item in one of these categories:
Discard – clothes with damage or stains that cannot be repaired or used when gardening or doing other messy chores, or used as cleaning rags.
Sell – clothes that no longer fits, that you never wear (we all have some of those), or that you simply no longer love, but that might be perfect for someone else.
Donate – gently used items (none that should be discarded) that will be enjoyed by those in need.
Store – these are the seasonal garments that will be put away carefully until next season. Be sure you clean and repair each piece before storing to prevent further damage. For clothes needing major repairs (a ripped seam or hem, a sticky zipper or missing button) or repairs you don't want to tackle, bring them to Flair. We'll return them as good as new.
Freshen and Wear – finally, you've found the clothes that you want to freshen up and wear throughout Fall and Winter. Hang, fold, store and enjoy!
Now comes the best part. After you've kept your appointment with your closet, make a list of what you need to complete your Autumn/Winter wardrobe and go shopping. Think about fabric selections and read the care labels before you buy!