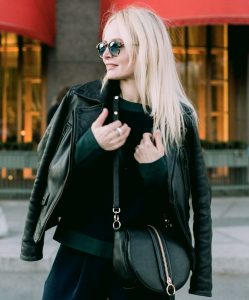 Leather is one of those fabrics that is always "in." This year, we are seeing it in everything from dresses to leggings, vests, and outerwear. Not only are traditional browns and blacks making the rounds, but vibrant hues like blues, yellows, and others are adding a vibrancy to any outfit. Here are 10 ideas that will help keep you looking luxe in leather in any season:
Look Luxe In Leather
Wear a scarf around your neck. This keeps the collar from damage caused by the oil in your skin.
If leather gets wet, blot with a white cloth. Hang to dry on a broad padded hanger in a cool, dry place. Do not use a dryer.
Do not carry heavy objects like keys or a cell phone in the pockets.
Use perfumes or hair spray before putting on any leather garment.
Don't use pins or wear adhesive name badges on leather.
Saddle soap is best used on saddles. Do not use it on leather clothes. It may cause streaking and staining.
If an item is wrinkled, press it using the coolest setting on your iron. Never use steam. Use a heavy brown craft paper as a pressing pad. Always test the leather on an inconspicuous area to be sure it won't be damaged.
Store leather in breathable fabric bags. Do not use plastic as it can trap moisture and lead to mold or mildew.
Clean matching leather pieces at the same time since some variation in color may occur.
If a stain occurs, clean the garment as soon as possible at Flair Cleaners where our leather professionals will treat it with TLC. Home cleaning may remove the color causing permanent damage. Always clean leather annually, even if it does not look dirty; dirt may not always show.