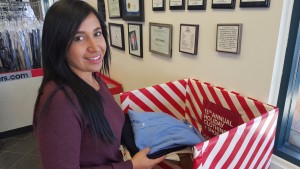 The 13th Annual Flair Clothing and Shoe Drive is currently in full swing. We appreciate your donations! We are accepting all types of clothing. Please consider donating shoes, jeans and other denim products, and professional clothes. Our charity partners also need accessories such as gloves, scarves, hats, belts and purses With El Nino coming, we are also asking for warm outerwear and rain gear.
This year we are supporting three important organizations serving our community.
The Los Angeles Mission serves the immediate and long-term needs of homeless and disadvantaged men, women and children. They provide residential and non-residential programs for addiction recovery and job readiness as well as clothing, food and shelter for those in need.
Helping Hands for the Blind provides timely assistance to blind persons in need of help through financial grants to blind students, travel assistance, special programs that are specifically designed for the blind and legal assistance when possible. Their thrift store revenues provide much needed funding for these programs.
MEND – Meeting Each Need with Dignity works with the most needy residents of the San Fernando Valley. Powered by volunteers, MEND provides emergency food, clothing, medical, vision and dental care, job skills training and job placement assistance to over 38,000 people each year.
The professionals at Flair Cleaners appreciate the continued generosity of our customers during this drive. Your donated clothing and shoes may be gently used, but must be in good condition, wearable and not ready to be discarded. Remember to empty all pockets before donating. Clothing will be cleaned, if needed, and then distributed.
Clothing and shoes can be left in the large donation bins in the lobby of all five Flair locations – Santa Monica, Burbank, Studio City, Redondo Beach and Valencia through December 31, 2015. Tax receipts will be available on request.