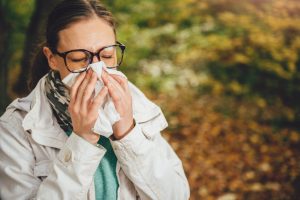 This year has already been one of the worst for allergy sufferers. If you've been sneezing, coughing, and fighting a runny nose, you may want to adjust how you do your laundry. Your laundry can actually be making your allergies and their symptoms worse. These tips may help out, and lessen flare-ups. If they don't, consider bringing your laundry to Flair, at least temporarily.
Allergy Tips For Laundry
Wash in hot water. A leading cause of allergies is dust mites, which can get into bed linens, towels, throw rugs, and draperies. Always wash these items on the hottest setting possible and dry them in a dryer. Read the care labels first. Not all items can be washed this way. If washing in hot water is not recommended, have items professionally cleaned instead.
Clean items that have been stored for a long period of time. These may have collected dust mites during the off season. Launder items you haven't worn in awhile to ensure they are clean. Additionally, wash plush toys and stuffed animals at least semi-annually. Place them in a net bag and wash on the gentlest setting possible.
Pick your products carefully. Harsh chemicals in many laundry detergents make allergies worse. Buy cleaners that are phosphate-free, scent-free, and un-dyed. Avoid chlorine bleach, as it is an irritant that can make allergy symptoms worse. Skip the fabric softener and dryer sheets. Use a cup of white vinegar to your rinse cycle instead. Your clothes will smell fresher and cleaner and the vinegar will be unnoticeable.
Clean your machine to remove residue from harsh chemicals. Run it through a couple of complete cycles without clothing. This is especially important before washing loads of stored clothing or linens.
Finally, tell us if you are allergic to certain laundry products when dropping off your clothes. We are happy to accommodate your special needs.