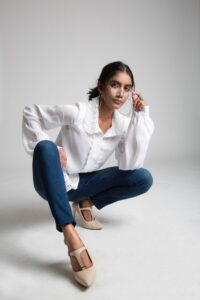 How often do you purchase a fresh new, bright white top only for it to change color over time? It's a frustrating experience how whites never seem to stay white. How can you keep your whites white while wearing them as often as you'd like? You'll need Flair Cleaners for that.
Consumer washing machines are capable of washing many clothes. Clothes can come out well when paired with the proper detergent and softener. However, the constant spinning and washing can gradually wear out your clothing over time. When it comes to whites, most consumer washing machines simply cannot maintain the whiteness of your clothing. Some discoloration will eventually occur. This isn't the case with professional dry cleaners like Flair.
Our shirt specialists carefully inspect each shirt for stains and missing, cracked, or broken buttons, replace them at no charge, and take extra care cleaning your collars and cuffs. Every shirt is starched, pressed to your particular preference, and delivered on hangers or neatly folded and boxed. The professional machinery owned and operated by Flair has the power and capability to keep your whites white every time. When paired with our environmentally-safe Green Earth process, your whites will be whiter for years.
Don't settle for just okay when you only get one chance to make that first impression; let us show you the difference a perfect shirt will make. We're confident that you'll be more than satisfied and will leave with the confidence that your shirts are ready to wear every time.
Contact Flair today and keep your whites as good as new for longer.