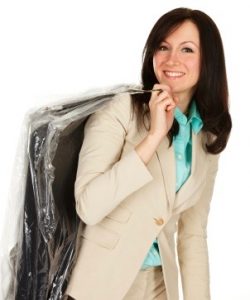 Your clothes are among your biggest investments, so you want to get the "dirt" on how best to care for them. After all, you've spent both time and money on perfecting your look over the years. Don't you want to keep that wardrobe looking clean and as good as new?
The professionals at Flair Cleaners in Redondo Beach, Studio City, Valencia, Burbank and Santa Monica have cleaned our share of suits, skirts, coats, shirts and laundry. We put together to share the "dirt" on things you wish you knew about cleaning your wardrobe.
A few simple tips about cleaning your wardrobe:
Don't let stains (dirt) sit. Did you spill something on your favorite shirt and forget about it? Stains seep deeper into the fabric the longer they sit unattended. Be sure to bring your stains to Flair Cleaners as soon as possible.
Scrubbing a stain at home can actually make it worse.
Home remedies found on the Internet do not always work and can actually damage the fabric.
Don't ignore clothing tag instructions. It is easy to just throw everything into the washer, but the results can be disastrous for clothes marked "Dry Clean Only."  Clothes may shrink, fade or tear.
Correctly storing your clothes goes a long way to making them last.
Hang like colors together in the closet to avoid color fading.
Fold your sweaters and stack them instead of hanging them.
Our cleaning professionals at Flair Cleaners are here to answer all your questions and concerns about cleaning and laundering your entire wardrobe. We offer full service dry cleaning and fluff and fold laundry services. Bring all your clothes to us to ensure the right process is used for each challenge.
At Flair, we'll help you make your wardrobe investment last.