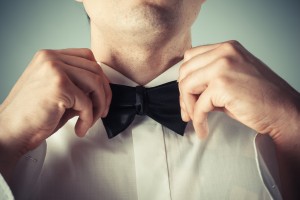 Every day our customers ask us for tips and advice. One of the top questions we get is, "How do I tie a bow tie?" So, with some help from  Tie-A-Tie.net, here are step by step instructions.
The Bow Tie
While the bow tie can be worn anytime, it is typically s worn to give you a formal and elegant appearance at formal occasions like a wedding or at an event where you might wear a tuxedo. A bow tie should never be  broader than the widest part of your neck and it should never go beyond the tips of the shirt collar.
The Knot
Pick the bow tie you wish to wear. Stand in front of a mirror.Then follow these steps.
| | |
| --- | --- |
| | 1) Place the bow tie around your neck, so that end "A" is two inches longer than end "B". |
| | 2) Cross end "A" over end "B". |
| | 3) Bring end "A" up and under the loop. |
| | 4) Now double end "B" over itself to form the front base loop of the bow tie. |
| | 5) Loop end "A" over the center of the loop you just formed. |
| | 6) Holding everything in place, double end "A" back on itself and poke it through the loop behind the bow tie. |
| | 7) Adjust the bow tie by tugging at the ends of it and straightening the center knot. |
Simple, right? Keep practicing andin no time you'll be an expert.  Be sure to check our blog on caring for neck ties for tips on keeping your bow ties looking their best.