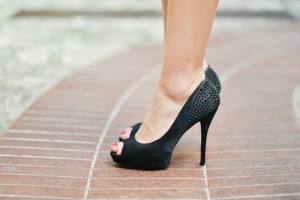 It's all about the feet this spring, and almost any pair of shoes you can imagine will work! No heel is too high and no detail is too decadent. Here's a quick take on what's hot for feet this year.
Women:
Lace it up!  No matter what kind of shoe, laces that go up and around lower legs are all the rage.
Slippers!  Once relegated to the bedroom, slippers are now considered shoes and come in designer fabrics and colors. Add jewels for evening outfits!
High heels with pointed toes – the sharper the point, the better – are back.
Tennis shoes in designer colors with platform soles are hot.
Sculptured heels and platform soles will be the rage for elegant evening shoes.
Don't forget the embellishments! This spring you'll see everything from LEDs and charms to buttons in all shapes, sizes and colors.  The more embellishing, the better.
Men:
From slip-ons to boots, new leather designs in multiple textures and colors are redefining style.
Chelsea boots reworked in patent leather, matte leather and two-toned leathers are ideal for going from casual to dressy in the same day.
Lace-up shoes in bright leather colors with flexible wooden soles are making a statement.
White shoes are the new black for dress shoes.
Penny loafers and wingtips are back, but this time in every color you can dream of.
This season, make a statement with every step. Embrace the new styles and let your feet broadcast your personal style and tell the world who you are.
Whatever shoes you choose, remember the expert cobblers at Flair Cleaners will help you keep them in top condition. If you need repairs, bring your shoes to any Flair Cleaners location – Burbank, Studio City, Valencia, Redondo Beach or Santa Monica.