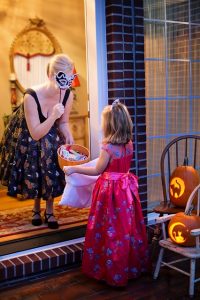 You have a blast decorating the house, the family, and even yourself for Halloween. But after the candy's been dished out, you are left with a bunch of out-of-season clothing crowding your home. Your first inclination may be to bunch it into boxes and store it away. There's only one problem: you spent a lot of money on your family's costumes and may want to use them again. Whether you intend to wear a costume again, or pass it down, you will want to clean it first.
Proper Costume Cleaning and Storage
Always read the care instructions with your costume and follow them.
If your Halloween costume includes regular clothes, clean them following the instructions on the label. This may include machine washing, dry cleaning, or hand washing depending upon the fabric.
If your costume has beading, sequins, or tulle, it requires extra care. If you aren't sure how to treat it, bring it to Flair for our wash and dry laundry services.
A costume made of polyester, nylon, or acrylic can be machine washed on a cold setting. Always hang to dry.
Check to see if your tag says, "dry-clean only," and be sure to take the costume to your local Flair Cleaners.
If your costume has no instructions or has a mix of fabrics and decorations, bring your costumes to Flair Cleaners. Our professionals will determine the best method of cleaning for you.
Always check your costume for spots and stains and be certain they are treated properly and quickly.
Once your costume is clean, store it in a cool, dry place. You may want to use cedar when storing it to keep them fresh. We recommend hanging costumes in a garment bag. If storing a costume in a tub or box, fill the pleats and folds with white tissue paper to preserve their shape.
Cleaning and preserving your family's Halloween costumes is important whether you have younger children or plan to wear your own in the future. The professionals at Flair Cleaners are here to help you clean those precious memories and return them to you ready for next year.