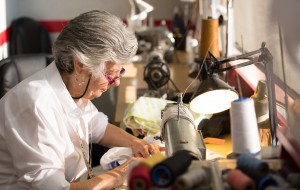 With the holidays quickly approaching, it is time to get out your "Holiday Best" for cleaning, repair, and if needed, alterations. We all have clothes that no longer fit, usually because we have either gained or lost weight. Or perhaps, our suit or gown is a bit dated. Before donating your suit, dress shirt, gown or coat, consider having them altered or updated at Flair.
Once you decide on alterations think about the following steps.
Know What You Want – While our tailors are experts, we are not fashion designers, and we can make only the alterations that you request. Before bringing in your garment, try it on and decide what you want changed – the sleeves shortened, the waist let out, the ruffles taken off – be clear about your requirements to ensure the end result meets your expectations.
Pin It – Be sure you leave time for our tailors to pin your changes so you can try on garments before changes are made. Check yourself in the mirror and be sure you like what you see before changes are started.
Be Realistic About Alterations – It is important to realize that not all alterations are practical. For example, dress pants can only be altered to a certain point before it makes more sense to invest in a new pair. For example, if alterations require changing pockets, it is usually better to donate the pants intact and look for a new pair
Don't Wait Until the Last Minute – It takes time to alter clothing. We encourage you to take a look at your holiday clothing now, to avoid delays caused by a large number of orders or extensive alterations. While some alterations and repairs take just minutes to perform, others can take hours or even days. Leaving adequate time to complete the work removes the stress of uncertainty, and ensures better quality results.
The professional tailors at Flair Dry Cleaners are ready to assist you with all your alteration needs. Combined with our expert cleaning services, Flair will ensure you ready for the holidays.