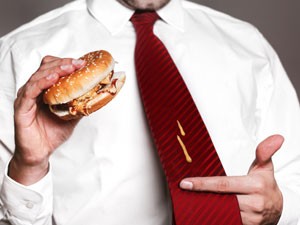 Food is essential  and enjoyable. But, when delicious food ruins your favorite clothes, it's tragic.  It's surprising how a perfect Marinara sauce can tantalize your taste buds — or completely ruin a silk tie or dress.
The safest way to protect your clothing from food stains is to know which ones are the worst and to develop emergency strategies for dealing with all spills until you can get the soiled clothing to Flair.
Be aware of the 10 worst food stains and try to avoid them at all costs:
Grease or Butter
Chocolate
Red Wine
Baby Food
Tomato-based sauces
Berry Juice
Mustard
Peanut Butter
Gum
Coffee and tea
Stain First Aid:
Removing stains can sometimes seem like a complex problem, from figuring out the type of stain and its origin to knowing the fabric. But take heart, a few simple tips can take the guesswork out of stain removal.
Act quickly! If the stain is on a garment where dry cleaning is recommended, take it to your local Flair Cleaners ASAP. Point out the stain and describe its origin, if possible.
Don't assume water is a best first step! Water can set stains, especially those from any kind of oil (even cooking oil) or grease or any food containing an oil-based ingredient.
Treat once! Once a treatment is applied, drying the fabric may cause the stain to set, so be sure you use the right stain removal treatment for the fabric and type of stain. If you aren't sure, consult with Flair Cleaners before trying a home-based remedy.
Test it out! Before applying a home remedy, test it on a hidden spot on the garment to ensure the treatment will not damage the fabric or cause the color to bleed.
When in doubt, let Flair check it out.