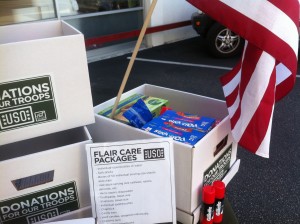 Donations accepted at all five Flair Cleaners locations and via text May 16 – 24, 2015.
Five shirts, blouses or pants dry cleaned or laundered free for active duty military and veterans May 21 – 24, 2015.
Flair Cleaners will host its Fifth Annual Flair Care Package Drive, one of the largest drives of its kind, May 16 – 24 to benefit America's military and their families. In partnership with the Bob Hope USO, Flair Cleaners will collect items for care packages at each of its five Southern California locations, which will be sent to military personnel throughout the world. Additionally, Flair will dry clean or launder up to five shirts, blouses or pants for active duty military personnel and veterans at no charge May 21 – 24, 2015.
"The response to our Annual Flair Care Package Drive consistently surpasses our expectations. We are humbled and very appreciative for the generosity of our customers, businesses, and residents of the LA area," said Gary Futterman, owner of Flair Cleaners. "Our company is honored to continue our decades-long commitment to Southern California's veterans, servicemen and women, and their families. We are proud to collaborate with the Bob Hope USO and to provide a way for our communities and our customers to give back easily to those who ensure our freedoms every day."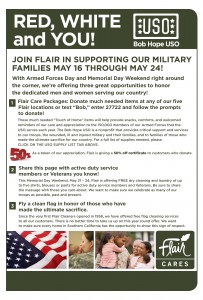 Beginning on Armed Forces Day and concluding Memorial Day weekend, residents and businesses can donate individually packaged snacks, toiletries, and other items that offer a "touch-of-home" to military personnel and families, wherever they are deployed. A complete list can be found on the Flair Cleaners Facebook page, Facebook.com/FlairDryCleaners. Donations can be brought to any of the five Flair Cleaners locations – Burbank, Redondo Beach, Santa Monica, Studio City, and Valencia – May 16 through May 24. Every Flair Cleaners customer who donates will receive a certificate for 50% off dry cleaning as a thank you. In addition, customers can donate via text by sending the word "Bob" to 27722.
"We are thrilled that Flair Cleaners and its customers will once again be supporting thousands of troops with its innovative and highly effective Flair Care Package Drive," said Bob Kurkjian, Executive Director of the Bob Hope USO. "Each donated item and funds generated through text message donations will go directly to support America's men and women in uniform. It's a wonderful way for every Flair Cleaners customer to help the Bob Hope USO lift the spirits of our troops."
Year-round, Flair provides complementary cleaning for United States Flags and discounts for military personnel.
Bob Hope USO, an independent, not-for-profit organization, lifts the spirits of more than 150,000 troops and their families annually throughout the counties of Los Angeles, Orange, Riverside, San Bernardino and Ventura. Anchored by airport centers at LAX, Ontario, Orange County and Palm Springs, Bob Hope USO also provides high-quality programs and support to bases throughout Southern California including critical morale and welfare boosting efforts and services. The organization receives no funding from the federal government or Department of Defense, relying on the generosity of individuals, corporations, community organizations and philanthropic giving to support its work. Learn more at BobHopeUSO.org.