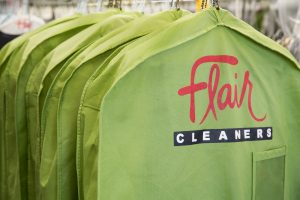 At Flair Cleaners we get a lot of questions about our bright green The Better Bag from our customers.  The Better Bag is an eco-friendly alternative to plastic dry cleaning bags. It helps reduce waste while fitting easily into your "green routine."
So Why is The Better Bag Better?
For one, it's three bags in one! It easily converts into a garment bag, a laundry bag or a duffel bag. In addition, the built-in side gussets provide ample room for garments to hang without wrinkling, while at the same time protecting them from the elements like dust or rain. Each Better Bag includes a long side zipper so you can easily see your garments before leaving the store.
The Better Bag is made from 100% recyclable polypropylene, a breathable and washable fabric.  Each bag holds up to 10 garments. There is an outside plastic pocket on each Better Bag that is used to track of your order.
Using The Better Bag
If your Better Bag(s) get soiled, they can be washed in cold water and hung to dry or dried in a dryer on cool.  Because The Better Bags are made of a breathable fabric, they dry quite quickly on a line. We recommend using two of The Better Bags.  The first can be used for bringing in or picking up your cleaning orders. Keep the second at home as a laundry hamper.
The Better Bag is available at all five Flair Cleaner locations, Burbank, Redondo Beach, Santa Monica, Studio City and Valencia for only $6.00 each or two for $10.00.  All of The Better Bags are 100% recyclable, so if yours wears out, just bring it in to any of Flair Cleaners; we will recycle it and replace it for free.
Using Flair's Better Bag, customers like you have helped us keep more than seven tons of plastic bags and paper hanger covers out of local landfills since 2009.  Thank you for your continued support of our efforts to keep our environment clean and safe for all.