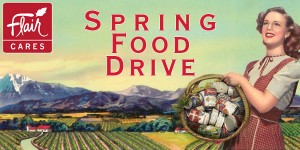 Flair Cleaners will match donations up to 1,000 pounds of food at each of its five locations.
All customers who donate will receive a coupon for 50% off dry cleaning.
Flair Cleaners will host a Flair Cares Spring Food Drive, May 1 – 31, at each of its five locations. It's important to all of us at Flair to give back to the communities who support us. When we learned that nearly 1.5 million people in Los Angeles County don't have enough money to buy adequate food for their families, we knew we had to act quickly to help our local food banks replenish their shelves.
Flair customers and members of the community wishing to contribute can bring unopened, non-perishable commercially prepared, canned or boxed food to any Flair Cleaners – Burbank, Studio City, Santa Monica, Redondo Beach and Valencia. Food items that have passed their expiration dates or items in glass jars cannot be accepted. For a complete list of recommended items for the Flair Cares Spring Food Drive, visit Flair Cleaners' Facebook page.
Donations will be delivered by Flair Cleaners to the following charities:
The Westside Food Bank is an independent nonprofit corporation that provides food that enables low-income people to stay in their homes, deterring the problem of homelessness, and saving them from making the agonizing choice between paying for rent or food when they can't afford both.
The Santa Clarita Valley Food Pantry strives to alleviate hunger throughout the Santa Clarita Valley. Their dynamic group of volunteers sources donations, packages nutritious food to stretch a family's food supply and distributes that food to qualifying residents of the Santa Clarita Valley.
The North Hollywood Interfaith Food Pantry, a 100% volunteer coalition of diverse religious institutions working together to address the problem of hunger in the community.
Burbank Temporary Aide Center is dedicated to providing the poor, working poor, and homeless of the local community with basic services they need to live with dignity, and to serve citizens of the city in times of emergency and disaster.