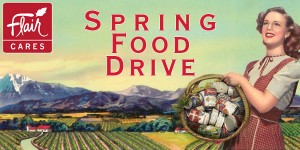 Flair Cleaners will host its second Flair Cares Spring Food Drive, May 1 – 31, at each of its five locations. The food drive will benefit local food banks in the communities where Flair is located. Flair will make matching contributions up to 1,000 pounds of food donated by customers at each locations. In addition,   everyone who donates will receive a coupon for 50% off a future visit to Flair Cleaners.
"According to Feeding America, Los Angeles County has the highest number of residents in the country that go hungry every day," said Gary Futterman. "Hunger affects our neighbors, the elderly, veterans, and children, These are people we see every day, not those who are typically portrayed as poor. We had to do what we could to support the admirable work of nonprofits in our communities that fight to end hunger and help those in need."
Food Needs in LA County
In Los Angeles County, 12% of the 1.5 million people with insufficient money to buy groceries live above the national poverty level. These people do not qualify for Federal Food Assistance programs. About 78% of these people live in families with at least one working adult. Since many of those living below the poverty level are homeless, they cannot get assistance.
The hungry in our neighborhoods include:
Children in preschool, after-school, and day-care programs.
Unemployed, under-employed, and working poor.
Seniors on fixed incomes and the frail elderly.
Women and children living in domestic violence shelters.
Homeless individuals who are without basic necessities.
The mentally ill, the disabled, and those with chronic illnesses.
Veterans who face the challenges of readjustment, ill-health, or poverty.
Flair customers and members of the community may bring unopened, non-perishable, canned or boxed goods to any Flair Cleaners. Food items that is passed its expiration dates and glass jars cannot be accepted. For a complete list of recommended food items, visit Flair Cleaners' Facebook page.