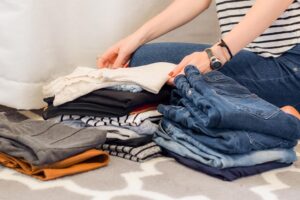 Laundry by Flair is a game-changer. Here are five reasons why you'll love our Wash & Fold service!
One Less Chore
Think about this: There is no such thing as "laundry hour," but we've heard the words "laundry day" thrown around here and there. Let's face it; we all waste too much time at home doing laundry when we've got better things to do with our time. With Flair, you've got one less chore on your to-do list and lots more free time on your hands. It's a win-win.
On Your Schedule
Bring in your laundry to Flair whenever you're ready. Can't stop by during store hours? That's okay; with our Pickup and Delivery Service, leave out your laundry and arrange for a pickup. We'll take care of it and return it freshly cleaned and ready to wear. Learn more!
Bring Flair Everything!
Flair promises to give all your garments the TLC they deserve. From sheets and towels to your gym clothes and the kid's sports uniforms.  Don't even worry about sorting; we've got it covered.
Save Money
Flair Wash & Fold saves money. Doing laundry at home uses water and electricity, which adds up quickly on your monthly bill. Not to mention the money you spend on detergents and fabric softeners.
No More Folding
With Flair, you'll never have to fold your laundry again. We will return your garments freshly cleaned and folded. The only thing left is putting them away!
With five (and more) reasons like these, why would you ever wash at home again?