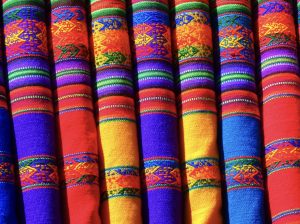 At Flair, our professionals are experts in fabric care. Many of our customers, however, are curious about what we do. In Fabric Care 101, we share a few of the many considerations that go into a perfect dry cleaning outcome.
Fabric Care 101
The dry cleaning process is just exactly that, garment cleaning minus water saturation. We immerse clothes in our eco-friendly GreenEarth solution that does not penetrate the fibers of the fabric. This avoids the possible swelling and shrinking that occurs with water saturation. Our trained spotters inspect and pre-treat garments for stains and heavy soil. After this, we sort them by types of fabric, color, and weight, and then dry clean them.
Several factors determine the cleaning method used including soil, fibers and construction, and dyes.
Types Of Soil That Impact Fabric Care
There are three basic types of soil:
Water-soluable soil that consists of body fluids, salts, or sugars and are best removed by water.
Solvent-soluable soils, which include oils and greases, including natural oils secreted by the body.
In-soluable soils, which do not readily dissolve in either water or solvent. Mechanical action removes these from the fabric.
Fiber Composition & Construction
Prior to cleaning, we inspect the fiber composition and construction of your garments. Water damages certain fibers, such as wool, linen, silk, and rayon. Wool and silk, both protein fibers, tend to degrade after contact with even the mildest alkalis found in some cleaning processes. Additionally, wool does not respond well to excessive heat. Garments with a loose fabric construction enhance these problems and will relax and shrink when they are washed. Most fibers are compatible with the dry cleaning process because it does not swell fibers and cleans at room temperature.
Dyes
The various dyes used to color fibers and fabrics often determine whether or not an article is washed or dry cleaned. In general, man-made fibers are solution-dyed and respond equally well to either cleaning process. Other types of dyes may respond well to water, but not so well in dry-cleaning solvent. Dyes used for rayon, silk, and wool, however, often respond poorly to water. For this reason, dry clean most garments of this type rather than laundering.
These and many other factors determine the dry cleaning or laundry process to use. Our professionals use their expertise and professional judgment to determine which process will restore each garment to a condition that is as close as possible to "as new" condition.