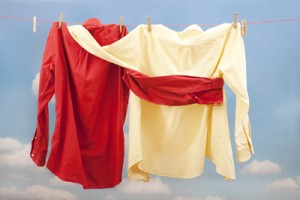 Because we buy our clothes a few pieces at a time, many of us don't realize the huge investment we've made in time and money when it comes to our wardrobes. Not only that, but clothes are an investment in ourselves. They reflect our personality and are the first line of communication to others about who we are. So, what do your clothes say about you if you have missing buttons, frayed hems, wrinkles, or stains? It's surprising how many people don't work on extending the life of their wardrobes by taking care of their clothes.
First, inspect your wardrobe on a regular basis and use this checklist to determine if a garment is ready to wear.
• Is the garment stain free?
• Is it free of odors?
• Are all the buttons and seams intact?
• Is it clean?
• Is it wrinkle-free?
• Does it fit properly?
Fixing these problems immediately will go a long way toward maintaining your wardrobe and ensuring you get many years of use from it.
Don't fall into the trap of thinking, "It's okay to wear one more time." That one more time may exacerbate small problems and turn them into permanent damage. For example, while perspiration odor can be diminished when clothes are aired out, the salt in your perspiration can actually break down the fibers in your clothes, weakening them to the point of breaking or tearing. Similarly, when you don't see the stain you "spot cleaned" yesterday, that does not mean it is not there. The more time a stain has to set deep in clothing fibers, the more likely it will be to reappear and the harder it will be to remove.
As author Susan Morem (How to Gain the Professional Edge) wrote, "Your clothing is the first thing others notice about you. Make sure your clothes are clean, pressed, mended and fit well."
At Flair, we know how hard it is to find the perfect addition to any wardrobe, and we work hard to help you enjoy it for many years to come.