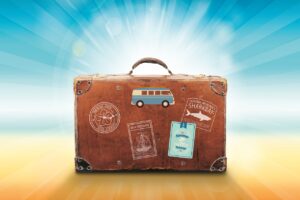 We are well into summer, and thoughts are turning to weekends away, fun adventures, and long-anticipated trips. Whether traveling solar or with the whole family, there are plenty of reasons to include Flair on your summer destination list.
Preserve delicate fabrics
The most popular summer clothing has bright colors like those found naturally in summer. These are often made of delicate fabrics which need special care after being untouched since last summer. These outfits need gentle cleaning only a professional can provide.
Avoid the effects of summer sweat
If you wear your favorite summertime clothes often, they will probably get damp from perspiration and sweat occasionally -no one can avoid our heat! To prevent permanent damage from perspiration, have them cleaned often by Flair. Also, put your deodorant on before you finish dressing.
Get out stains
Summer stains can be the hardest to remove. Sticky cotton candy, melting ice cream, oily burgers, and others can seem impossible to remove. Leave them to the pros! Successfully getting that chocolate smudge off your favorite dress is worth it.
Help clothes last longer
Our professionals know the proper techniques and products to use to protect and clean your clothes. Proper cleaning will help them last as long as possible, so you enjoy them for years.
Save you time
Why spend time trying to do it all by yourself? Save yourself the time and the stress by letting Flair do your Wash & Fold Laundry and dry cleaning while you hit the beach. Use our FREE Pickup & Delivery Service to save even more time.
Why wait?
Start your summer fun today and leave your laundry and dry cleaning to Flair. They are chores we love to do!