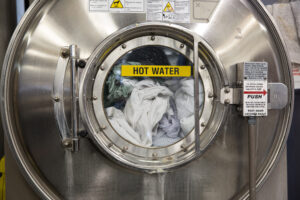 It's more important than ever to keep your clothing and laundry items safe and sanitized after everyday use. But how can you be sure you're getting rid of germs with your daily cleaning and laundry habits? One way is to use the right amount of heat. We've gathered some important information from reliable sources to help keep you and your family as germ-free as possible. And, when you choose Flair Cleaners for dry cleaning in Santa Monica, Studio City, Redondo Beach, and Valencia, you can rely on us to take the appropriate steps to ensure your clothes come back clean and free of most pathogens.
How Dry Cleaning And Laundry Helps Kill Pathogens
Hot water: According to the World Health Organization temperatures of 140 to 150 degrees Fahrenheit kill most viruses. Here at Flair Cleaners, our dry cleaning loads get up to temperatures of 165 degrees Fahrenheit.
Soap and mechanical action: In much the same way that you kill the virus by washing your hands with soap for 20 seconds, dry cleaning machines wash your clothes with soap and mechanical action that breaks down viruses. In addition, the surfactants in the soap remove viruses and bacteria, which then rinse down the drain.
Drying with high temperatures: Dry cleaning is heat dried and/or heat pressed at temperatures up to 220 degrees, hot enough to kill known viruses. If the hot water, soap, and disinfectants don't get rid of the germs, the final drying process should.
Here at Flair Cleaners, we take your safety and health very seriously. To read more about how our team is taking measures to combat the COVID-19 virus amongst our customers and teams, please read our COVID-19 Update.
Sources:
https://www.cdc.gov/coronavirus/2019-ncov/prepare/cleaning-disinfection.html
https://www.dlionline.org/coronavirus-covid-19-guidance
https://www.osha.gov/laws-regs/regulations/standardnumber/1910/1910.1030