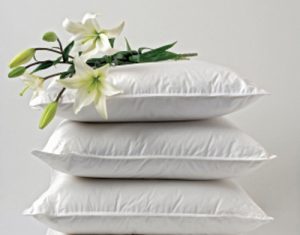 Your bedroom is your retreat in the house.  It is a place of comfort that reflects your personal and distinctive taste.  You have invested time and money and getting the decor "just right."  So, it is important that you keep that investment clean and looking good.  Let Flair Cleaners dry clean and launder your bedroom sets and  return them to you crisp and ready to use.
We recommend cleaning matching bedding and window treatments at the same time, so that if there is any color loss, it happens simultaneously. Color loss occurs because of the stability of the dyes and the properties of the items, not because of the cleaning process.
What to Clean Together from the Bedroom:
Bedding ensembles: comforters, shams, pillowcases, duvet covers and matching blankets
Any matching dresser scarves, curtains and valances
Cloth and braided rugs
Draperies should all be cleaned at the same time
We recommend cleaning all bedding ensembles once a season to eliminate the dust and dirt that accumulate in them. This is important even if they do not come into direct contact with your skin. Frequent cleaning can extend your bedding's useful life and keeps your bedroom looking beautiful.
The cleaning experts at our Flair locations in Santa Monica, Valencia, Burbank, Redondo Beach and Studio City will assist you with any questions you may have.