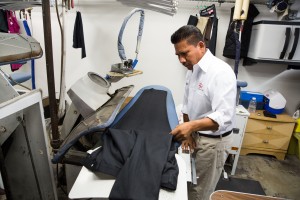 Clothing care can be complex given the variety and number of fabrics, stains, and uses. In this blog, we hope to shed some light on some of the more common misconceptions associated with dry cleaning.
Did you know that many care labels are incorrect? That's why it is always a good reason to ask Flair before laundering at home.  For example, while cashmere sweaters can be hand washed, they must undergo a time consuming process to be blocked and dried properly to minimize wrinkles and shrinkage!
Did you know that odor does not come out in dry cleaning? The only way to  remove an odor is to use textile deodorizer, and even that is no guarantee. What's important to remember is that if you bring a garment to Flair with the hope that the odor will be removed – let us know.
Did you know that structured garments should never be washed at home? A structured garment is any clothing that is carefully tailored and deliberately shaped like a blazer or wool coat.
Did you know that there should never be a "dry clean odor" in your clothes? If there is a petroleum smell, then your dry cleaner is not using environmentally sound practices. At Flair, we use GreenEarth for the safest, freshest clean available!
Did you know that Flair has very specialized equipment that can remove wrinkles, set finish and shape garments easily and quickly after cleaning? That's one reason your clothes look almost as good as the day you bought them.
Did you know that different stains require different treatments to fully remove them?  Often home remedies remove the visible stain while leaving the residue in the fibers. This residue eventually discolors causing a permanent damage.
Remember, Flair is your trusted resource. We study stain removal, garment construction, fibers and weave and treat each garment individually to guarantee the best results.