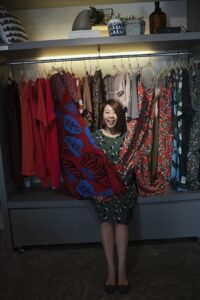 Save time with Flair Cleaners Free Pickup and Delivery service and leave you laundry, dry cleaning, and driving to Flair! Or, if you prefer to come in, save time with our On My Way Text Message service. Both are easier than doing it yourself.
Free No Contact Pickup and Delivery
We know work, errands, and daily tasks can get in the way of living and enjoying life to its fullest. That's why we offer free home and office pickup and delivery for all your dry cleaning and laundry needs. Your convenience is our priority. If your to-do list is longer than your day, we can help! Our free home pickup and delivery gives you more time to enjoy all that Southern California has to offer. We'll pickup and deliver your dry cleaning and laundry right to your front door.
Sign up on our website. We'll contact you to confirm you are in our delivery area.
Schedule your pickups by text message, email, or with our Mobile App.
Leave your bags on the hook we provide or in a pre-arranged location by 9:00 a.m. on your pickup day.
We'll return your freshly cleaned items on our next visit, and pick up additional items if needed.
Already signed up? Let us know you have an order ready.
On My Way Text Message
When your dry cleaning and laundry order is ready, we'll text to let you know.
When you're ready to pick up your order, simply reply to our text "On My Way."
We'll text you to let you know how many orders you have ready and at which Flair location.
To confirm your 15-minute "On My Way" request, reply "Yes." Your order will be ready when you arrive.
With four locations to serve you, laundry and dry cleaning has never been easier!