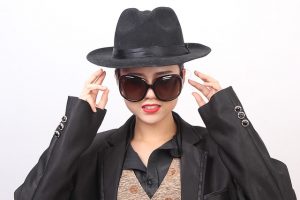 One of the questions plaguing artists, fashion designers, and everyday people is whether or not black is considered a color or a non-color. The answer is yes, and no. It depends on your perspective. In physics and on the light spectrum, black is the absence of color. However, in art, black is the presence of all colors. In printing, black is one of the colors needed to produce other colors.
In fashion, black is almost magical. It can be used as a main focal point or as an accent in so many ways. Coco Chanel said it best when she introduced the Little Black Dress: "Women think of all colors except the absence of color. I have said that black has it all. … [Its] beauty is absolute. It is the perfect harmony."
The Magic of Black
Black is:
Chic and elegant
Slimming
Looks good on all skin tones
Flattering with all hair colors
Easily worn by men and women
Be aware, though, black can be one-dimensional. Fashion Maven Karssie Rempel of Kassie's Closet suggests the following.
Creating a Wardrobe with Black:
Fit is important. Err on the side of fitted rather than loose clothing.
Vary fabrics and textures within your outfit. An all-cotton ensemble looks like it is missing something.
Make seasonal fabric selections. Do not wear a black woolen ensemble in summer or gauze in winter.
Be bold with your accessories. Women, wear big, colorful jewelry, and scarves as statement pieces. Men, add bold shirts, ties, and pocket squares to finish your look.
Bold shoes or boots complete the wardrobe.
Contrary to popular opinion, black does not hide stains or spots. As with other clothing, bring stains to Flair Cleaners as soon as possible and let us know the nature of the stain. Clean all pieces of a black outfit – skirt, jackets, vests, etc. – at the same time to prevent uneven fabric wear and fading.
Fashion Tip:
Ladies, make your outfit dressier or more casual simply by changing the color of your lipstick. A little black dress goes seamlessly from day, with light lipstick, to evening and night, with a bold, deep red lipstick.