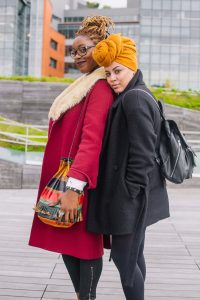 Cleaning winter coats can be complex; there is no one method that fits all. At Flair Cleaners, we tailor the cleaning to the needs of each coat. We consider the fabric, design, embellishments, coatings, and other factors and the select the right process and cleaning solutions to use. That's why coats cleaned at Flair look beautiful and last longer.
Four Reasons To Dry Clean Winter Coats
We use environmentally friendly GreenEarth dry cleaning to take better care of the fabrics used in winter coats. In addition, this process protects our customers and our planet.
We pay extra attention to buttons, laces, fur, and other embellishments on coats. Our process is gentle and ensures embellishments stay intact and look beautiful, even antique laces and expensive buttons or pearls.
Professional dry cleaning protects the fibers in your coats. Home washing causes wool fibers to swell and stretch, and detergents can become embedded in fibers and cause damage over time.
Winter coats are heavy. Cleaning them at home requires separate cycles for each coat. This means using more water, electricity, and detergents, not to mention your time. And, overstuffing them in small washers and dryers can cause damage.
At Flair, our fabric care service is second to none. Our professionals are dedicated to maintaining the look and feel of your clothing investment. Our environmentally friendly cleaning and professional training ensure your winter coats get the premium care they deserve.