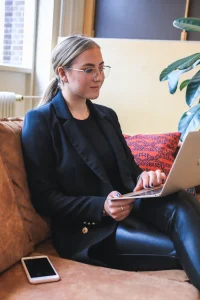 Online business calls have become the norm even after we've gone back to the office. We've all learned that these calls can be very productive. But, for better or worse, many of us have used the work-at-home trend as an invitation to dress like it's laundry day. Not that there's anything wrong with the "hoodies and t-shirts" look. As long as you get the job done, right? And, when you use these online events as a business success secret, it is even better.
The cool thing is the dress-down trend gives you an easy way to stand out from the crowd in your next online call. The secret is to take 30 seconds to change out of your hoody and into a business shirt or wool or silk blouse. You can even leave your PJ bottoms on!
Why You Should Dry Clean Blouses & Shirts
Especially if you jumped into the deep end of the dress-down craze, your business attire might have been a bit neglected recently. Even clothes hang in the closet, they take a beating from being crushed between everything else. And, the dust that accumulates makes them look dingy and worn.
So it's time to take advantage of Flair Cleaners FREE Pickup and Delivery Service and let our cleaning professionals make you look fabulous on your next zoom call.
Blouses
We're ready to care for the most delicate fabrics, brightest colors, and sharpest patterns to help you look your best on camera. Our expert care is something the water and detergent that you use to wash at home doesn't deliver.
We wash your shirts at temperatures that minimize shrinking and maximize eye-catching crispness. Regular professional laundering and cleaning extend the life of your shirts compared to using the washing machine at home.
Flair refreshes and repairs your high-end designer shirts, silk garments, and blouses. Our quality cleaning equipment gives all your finer fashions a hand-finished look with special attention to the sleeves and collar. We send them home ready to wear or put aside for your next online meeting.
Why wait? Put our business success secret to work for you. Arrange your next pickup with Flair.