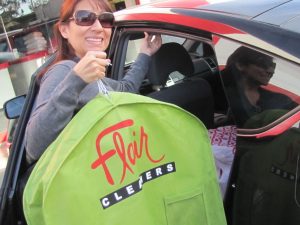 At some point everyone needs to bring clothing or household items to the dry cleaners. Whether dry cleaning, fluff and fold services, tailoring, shoe repair or garment preservation, Flair Cleaners is ready to help. To make your experience more positive, we have a few suggestions on what to do before bringing your items to any of our five Flair locations.
Prepping Your Cleaning
Read the care labels. Some items are extremely delicate and only should be spot cleaned due to beading and such. When you bring these items to Flair, be sure to let us know. If you forget, don't worry, our professionals check every item of clothing before doing any work on them.
Check the pockets. You would be surprised at what has been found in pockets of clothes brought in for cleaning. Of course, anything we find is saved and returned along with your finished cleaning.
Check your clothes for missing buttons, holes, torn or frayed seams, ripped hems, and other damage. Point these areas of concern out when you drop off your cleaning so we can repair them as needed.
If you have any stains on your clothes, be sure to tell the Flair Cleaners associate when you bring your garments in. Tell them what caused the stain (if you know), what you did (if anything) to treat it, and how long the stain has set. Remember, the quicker you bring in a stain, the less time it has to set into the fabric.
If you have a lot of errands to run before you bring your clothes into Flair Cleaners, be sure to protect your cleaning from the sunlight. Keep it in a protective bag like Flair's Better Bag, behind a window screen, or in the trunk.
Following these simple tips will help make every experience at Flair Cleaners delightful.