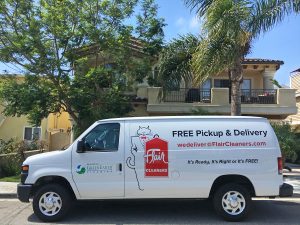 One of the greatest time and money saving conveniences we offer is our Home Pickup and Delivery, especially for those in the greater LA area who are always on the go.
1. Convenience
By far, the number one benefit is convenience. We pick up your dirty clothes and household items once or twice a week and return them to you sparkling clean. And, there is no need for you to wait. Just put them in your designated pickup and drop-off location. There really is no more efficient way to have your items dry cleaned and laundered.
2. Savings
Eliminating or cutting down on your home laundry saves you money and potentially space. You'll save on gas, electricity, and water bills, and equipment maintenance. And, if you choose to eliminate the machines completely, you may even get space for that new office, workout room, or zen room you've been wanting.
3. Better Quality
Home machines simply do not do laundry as well as professionals. At Flair Cleaners, we have the right equipment and a highly trained staff. We also have decades of experience and knowledge on fabrics, stains, and cleaning processes. A home washer and dryer and store-bought detergents will never be quite as good. And, with our GreenEarth Cleaning Process, your clothes will be clean and chemical-free when returned.
4. Free Time
In our busy lives, your time is your most precious commodity. Instead of spending it in transit to our nearest dry cleaning and laundry location, use your time more productively and let our professionals come to you.
5. One-Stop Shopping
With Flair Cleaners you don't need to take your clothes to different places for laundry, dry cleaning, tailoring, and in some locations, shoe repair.
So, why wait? Ask your local Flair Cleaners about signing up today!