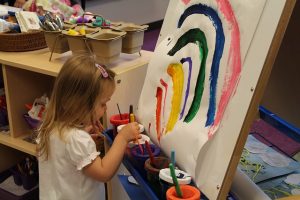 Kids care a lot about looking good to others, no matter what their own personal style. Unfortunately, kids will be kids. It seems that their clothes become magnets for all kinds of smears, smudges, and stains. The classroom, cafeteria, and playground each hold their own potential pitfalls. As a parent, you may be faced with the challenge of removing those traces from their new back to school clothing.
Treating Back to School Stains
Know your child's curriculum.  When is art class?  When is P.E.?  Make sure your child has an art smock or apron for those "oops" with paints, glitter, and glue.  Send along appropriate "old" gym clothes for P.E. where it does not matter if grass stains appear.
Read care labels. Read the care instructions carefully before cleaning. These directions are usually the best instructions for your child's clothes.
Don't use water or rub. This is everyone's first inclination, but without knowing the cause of the stain you may set it permanently. And, rubbing only forces it furthers into the fabric.
Avoid quick fix towelettes or sticks. These can set stains as easily as they can get them out. In fact, most remove the surface dirt leaving the stain to settle and become permanent deep in the fibers. In a short time, the stain will re-appear and the garment will be ruined.
Resolve pre-school spills before school. If your kids don't make it through breakfast without a spill, stop them before they go and have them change. Then add the garment to your laundry/dry cleaning bag for Flair Cleaners.
When in doubt, ask. The professionals at Flair Cleaners are always willing to provide expert guidance and advice. If you aren't sure what to do, don't treat it at home. Bring it to your local Flair Cleaners for the best laundry or dry cleaning treatment possible.
You've worked hard and dedicated time and money to outfit your kids with new back-to-school clothes. Let the professionals at any of our five locations – Burbank, Redondo Beach, Santa Monica, Studio City, and Valencia – help you keep these new clothes looking new.  All of us wish your children a safe and successful school year.