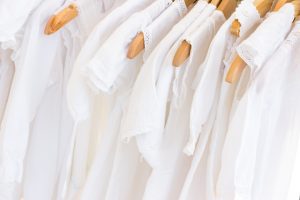 For centuries, linens have been prized for their flexibility and breathable essence. Their unique qualities require special care to ensure it keeps its shape and does not weaken.
What Is Linen?
Linen is a natural textile made from the stalk of the flax plant. The plant's fibers are woven into a lightweight, comfortable, and highly absorbent cloth. Linen is used in a variety of stylish fashions ranging from casual wear to evening wear. In addition to men's and ladies fashions, linen is popular for home decor including table coverings, bedding, and more. Linen also is used to make fine papers.
In the earliest of times, linen was hand-washed in streams and boiled in pots as a way of cleaning it.  It was then gently spread out and dried in the sun. Today, many people wash and dry linen in machines at home because it is a natural fabric, even though manufacturers typically recommend dry cleaning.
Don't Let Your Linens Down
Linen's valued absorbent properties mean that extra TLC is required to keep the cloth in exceptional condition. The primary reason dry cleaning is recommended has to do with the items used in the construction of linen garments. These include dyes, finishes, interfacing, lining, buttons, trim, and even thread. When washed, these add-ons complicate the cleaning process. When machine washed, they can cause the fabric to stretch, tear or weaken, and the dyes and finishes may bleed or fade.
Dry cleaning offers many advantages for linen garments and home decor:
Helps prevent dyes from bleeding
Protects  trims, buttons and finishes
Preserves fibers so they don't breakdown
Keeps linens crisp longer
The absorbent nature of linen makes it a magnet for dust and dust mites. Regular dry cleaning will ensure your linens stay clean and undamaged for years. In addition, the professional dry cleaners at Flair are trained to identify and properly treat spots and stains on linens.
If your linens are part of your cherished wardrobe or family heirlooms, don't let them down with improper care. Bring them to any of our five locations where our experts will give you the best advice on whether to wash them at home or leave the cleaning to us.