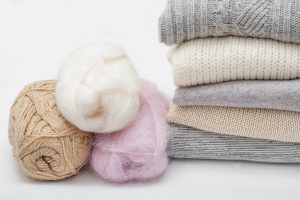 Quality cashmere is not only the finest, softest and warmest yarn, but it is also a very durable product, which can easily last 10 years and over 200 wears when taken care of properly.
What Is Cashmere?
This special yarn comes from rare fibers found in the undercoat of cashmere goats, who live primarily in harsh climates in Mongolia and China. The goats adapt by growing a double fleece, an outer guard layer and an undercoat for insulation. Cashmere fibers are collected and divided into different quality ranges, based on thickness, length, and color. Finally, they are dyed and spun into yarn for use in a wide range of garments. The most respected companies for yarn processing and for knitting are located in Italy and Scotland.
High quality, authentic cashmere is extremely expensive due to the difficult production process and its scarcity. On average a cashmere goat generates only 150 grams of fibers per year and it takes 300 grams to make a jumper. In total only 6,000 tons of cashmere are produced per year, a very small fraction compared to 1.3 million tons of wool.
Caring For Cashmere
While a luxurious fiber, cashmere doesn't need to be high maintenance if you wear and care for it properly. Here are seven tips to consider when preserving these high-end sweaters.
Make sure you know what you're caring for. Since cashmere has made a comeback in the past few years, we have seen an influx of substandard product on the market. For this reason, you should purchase your sweaters from a reputable company and check the label to ensure it is 100% cashmere.
Don't spray perfume while wearing cashmere because it will discolor or stain the garment.
Save the extra yarn that comes with a good cashmere purchase.
If the sweater is stained, have it dry cleaned as soon as possible so stains don't set. Do not treat stained cashmere at home.
Never hang cashmere garments in your wardrobe, always fold them when storing, otherwise they might lose shape.
When not using for an extended period, place inside a dust bag or sealable garment container to protect it from moths; place lavender or moth balls inside.
Protect the fabric from contacting nylon (for instance with seat belts or inside jackets), which can damage the fibers.