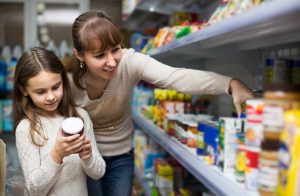 The Flair Cares Spring Food Drive starts next week.  All five Flair locations, Santa Monica, Valencia, Studio City, Burbank and Redondo Beach, will be collecting non-perishable food items the entire month. These will be donated to four nonprofits in our communities that provide food to those in need. Here are two of the organizations we're supporting.
2017 Profile: Westside Food Bank
The Westside Food Bank was founded in 1981 to provide food to social service agencies on the west side of Los Angeles County. Its impact goes far beyond feeding those in need. By providing food to low-income families, they no longer have to make the tough choice of paying rent or buying food. Most cannot afford both. Additionally, the Westside Food Bank provides food to about 70  social services agencies in the area. As a result, they can  focus on other programs that help low income families like job placement, housing, education and more.
The Westside Food Bank secures about half of the food it distributes through donations and food drives. They receive produce through the statewide "Farm to Family" distribution program. Even so, they purchase about half the food they need from wholesale merchants.
To further reduce their purchases, the Westside Food Bank started the "Extra Helpings Westside Program." This program provides a way for bakeries, restaurants, caterers, and food suppliers to donate food that can no longer be sold. The Westside Food Bank collects the food and redistributes it to the agencies it supports.  This program provides about one-third of the food they distribute.
2017 Profile: Santa Clarita Valley Food Pantry
Established in 1986, the Santa Clarita Valley Food Pantry works  to alleviate hunger throughout the valley. The nonprofit distributes food on a short-term supplemental, need basis to anyone in need. Each day they are open, the nonprofit distributes more than 3,000 pounds, year-round.
Many of the individuals served by the food pantry are elderly and have no transportation. As a result, they often don't have access to food. The food pantry started the Senior Outreach Mobile Distribution Program. Food is delivered to low-income senior citizen apartment complexes where residents can get what they need.  The food pantry operates seven outreach distribution locations in the Santa Clarita Valley.  In addition to meeting the hunger needs of their neighbors, the Santa Clarita Valley Food Pantry intends to ensure self-sufficiency through active partnerships with other organizations throughout the community.
To participate in the Flair Cares Spring Food Drive bring unopened, non-perishable, canned or boxed food to any Flair Cleaners. Items that have passed their expiration dates or food in glass jars cannot be accepted. Visit our Facebook page for a complete list of items that are needed. Everyone who donates will receive a coupon for 50% off a future Flair Cleaners dry cleaning order.