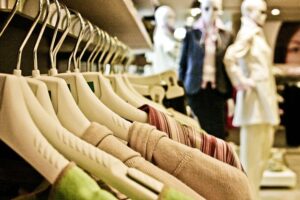 The holidays are here, and that usually means new clothes. Either you purchase new items for holiday parties or receive clothes as gifts. Either way, it's natural to want to wear them right away. But it is important to clean new clothes before wearing them for the first time. Here's why.
Clean New Clothes
Dyes in the Fabric – New garments typically have extra dyes after being produced that come off during washing or dry cleaning. If you don't wash them first, the pigments can transfer to your skin and other clothes that you are wearing. In this case, you might want to consider dry cleaning so the dyes don't transfer to other garments during washing. Or wash each new piece alone.
Chemicals in the Fabric – Like dyes, remnants of chemicals used to enhance color and texture may stay on clothing after leaving the factory. If you have sensitive skin, these chemicals may cause a reaction such as a rash.
Previous Wearers – Though it's not always the case. Numerous other shoppers may have tried on your new garment. Alternatively, it could have been purchased, worn, and returned. Bacteria, sweat, and dead skin cells may have transferred onto the fabric throughout these scenarios.
Make the safest decision and start your relationships with your new items right. Take them to Flair Cleaners and wear them with confidence that they are as fresh and new as they make you feel. And, while you are there, make an appointment with our tailor to be sure your clothes fit perfectly!
Oh, and don't forget to donate your old clothes to the 19th Annual Flair Cares Holiday Clothing and Shoe Drive now through December 31 at all Flair Cleaners locations.
Happy shopping and gifting!