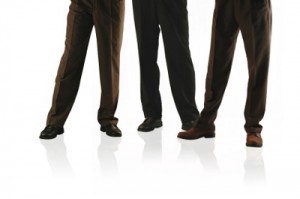 One of the questions we often get in our tailoring department is, "How long should my pants be?"  Before answering that, it's important to know about pant breaks.
The term break refers to the fold or bend just above the cuff of the pant leg. This break is created by when the fabric of the leg is longer than the leg of the person wearing the pants causing the pants to break or fold where the cuff meets the shoe.
Most people see the break and think their pants are too long. This is not necessarily the case. In fact, there are several styles of breaks.
If a pant has no break, there is no crease in the front line of the pant and the cuff just grazes the shoe.
With a full break, the pant has a deep crease, so deep that if the pant is any longer, a second break may form.
A half break, falls in between these extremes. The  line of the pant bends noticeably, but not significantly.
A quarter break forms is when the trouser meets the shoe and breaks just slightly.
Give your pants a break!
Different styles and pants break differently and are influenced by personal preference.
In general, however, suit pants and dress slacks usually are designed with a medium or half break. Chinos or corduroy pants are more conservative and typically have a quarter or medium break as anything more tends to look messy. With jeans, it is preferred to go for a full break, so that, if desired, cuffs can be turned up or rolled.
One important rule of thumb: Regardless of the length or depth of the break, socks should never show when walking.
Let Flair help you find your style.  Our tailors are ready to help you adjust your break to fit every occasion and, of course, your personal preference.