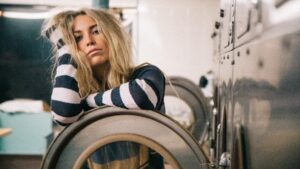 According to the Bureau of Labor Statistics, an average American spends half an hour per day doing laundry. That's 6.5 hours a week! You're not alone if you've thought, "There has to be a better way to do laundry?" We've got it! Flair Cleaners Wash & Fold Laundry Service is the answer. Here's why.
Saves time
With the fast pace of life, people don't have the time to do multiple loads of laundry every week – or every day in the busiest households. Unfortunately, massive piles of clothes seem to multiply overnight.
Relying on Flair Cleaners for your Wash and Fold Laundry service saves hours of time. You can maintain a regular laundry schedule using our FREE No Contact Pickup and Delivery service, which means you don't have to waste time trying to juggle other responsibilities.
Affordable service
When you consider the total cost of doing laundry at home, it adds up to quite an expense. There are tangible expenses of buying and maintaining the washing machine, dryer, detergents, fabric softeners, bleach, etc. Then there are the often forgotten costs of energy and water use.
Professionals at work
Our team is comprised of skilled workers who have been highly trained. They understand the quality of the fabrics and the needs of each piece of cloth. They are meticulous, but fast and deliver consistent results. Furthermore, they are experts when it comes to tackling stains. Most people usually struggle with removing stains and often damage garments in the process.
Convenient
In the fast-paced society of America, the hassle of doing laundry can be too much. With each new item of dirty laundry, the pile keeps getting bigger. With Flair Cleaners, you can schedule days for our FREE No Contact Pickup and Delivery service and never fall behind on your laundry. Or, drop off your loads at any of our four locations. In addition, we offer other services such as alterations and minor repairs.
Isn't it time to leave your laundry at Flair and start thinking about what you'll do with your new-found free time.